Engineered Lumber & Beams
Our Contractor's Lumber Yard Stocks Wood Beams
Larger projects demand commercial lumber sized beams, and we have them in stock or available from our suppliers, usually within a day. If your job requires wood beams, Nichols Lumber will be glad to help!

Wood Beams
We stock most sizes of wood beams, in redwood, douglas fir, and some hardwoods. Large dimension wood beams for decks, patio covers, pergolas and more.
Table of Beam Sizes Coming Soon!
---
Engineered Wood Beams
Ask our service pros to help you select the correct engineered lumber products and span dimensions to meet your load and weight specifications for laminated trusses, i-joists, and all construction framing.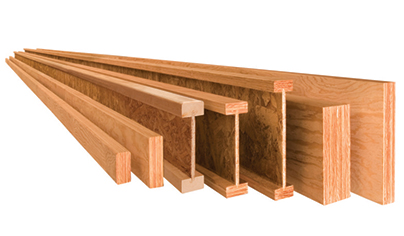 Beam Types
Glulam beams
Paralam beams
Laminated beams
PSL beams
Rigid lam beams
LVL beams
Brands Available
Weyerhaeuser Paralam® PSL Beams
Roseburg Engineered wood products

Roseburg iJoists (RLB RFPI)
Rigit Lam Beams

Rosboro Glulam
Brand4 TBD
---
Custom Wood Beams and Corbel Cuts
We can build engineered beams to your specifications. Our on-site band sawing and milling facilities offer you almost unlimited customization of beams and pre-cut framing lumber for your projects.